All women of the church are considered members of Presbyterian Women (PW) and are cordially invited to participate in any or all of our activities.  Everyone is welcome to attend any portion of the programs.
The Horizons Bible Study 
The Horizons Bible Study will resume in September, and the theme is "What My Grandmothers Taught Me - Learning from the Women in Matthew's Genealogy of Jesus".
We pray all Presbyterian Women remain healthy and that they will be able to "Zoom" into the Bible Study.  As always, all women are welcome to attend.  Zoom meeting number: https://us02web.zoom.us/j/81113291748, Meeting ID: 811 1329 1748
10:30 - 11:30 a.m. Bible Study - Contact Meg Brown at lmegbrown@gmail.com to order a Horizons Bible Study ($10).
11:30 - 11:50 a.m. PW Business Meeting
11:50 - Noon - Break
Noon - PW will join Mature Ministries' "Lunch & Learn" program via Zoom – See the church website for the Zoom meeting link
Presbyterian Women celebrate 175 years of service to First Pres!
A special event will be held in the Fall of 2021 to celebrate the service of women to First Pres, Ann Arbor. Watch for more information as the date gets closer.
Presbyterian Women: Staying Connected
PW sends out an email blast once a month from September – May sharing activities of interest to women. Sign up with virginiabell2013@gmail.com
Be a Part of PW - Presbyterian Women are always interested in hearing from women who would like to help in the organization. Contact virginiabell2013@gmail.com for more information.
Presbyterian Women and Missions
Ingathering, as it is known, is organized by the Presbyterian Women - Presbytery of Detroit. Every local PW is sent a list of items to gather for the over 34 agencies which we serve. Due to the COVID challenges this year's Ingathering assignments and new program details are on hold until PW of Presbytery of Detroit can best determine how to help the agencies we support. Any questions, please email Joyce at joycehimebaugh@gmail.com
The PW financial year is August - July.  The 2019 - 2020 budget closed out in July, and showed the following mission giving - which is approximately 78% of our budget.  Thanks to the support of the women of the congregation we are able to continue our mission giving at such a high rate.
PW-Presbytery of Detroit: $4,250
Designated Mission: $2,675 (Hope Clinic, Ypsilanti and Second Mile Center, Detroit)
Detroit Presbytery Food Pantry: $1,000
First Pres. AA Covid 19 appeal: $1026
Haiti Nursing School: $1,200
Scholarship for primary students in the Republic of Congo $305.
In addition three annual offering are received and sent to PWPD:
Least Coin: $63.00
Birthday: $365.00
Thank: $395.00
2020-21 Presbyterian Women Officers
Officers
Moderator: Virginia Bell
Secretary: Lynne Gulick
Treasurer: Bonnie Hughes
Vice Moderators
Mission:  Joyce Himebaugh
Justice & Peace: Lynn Gulick and Joan Bentz
Studies: Meg Brown
Coordinators
Publicity/Membership: Carole Hendrickson, Jeannette Faber, and Diane Johnston
Hospitality: OPEN
Special Assignments
Memorials Reception Co-Chairs: Felicity Williams, Marolin Bellefleur
Memorial Reception Refreshment Recruitment: Nelly Petrock
Session Liaison Co-Chairs: Diane Hockett and Renee Mulcrone
Co-Mission Prayer Partner: Carole Hendrickson
2019 Honorary Life Membership Recipients
In 2019 Honorary Life Memberships were awarded to Bill McPherson and Linda Robinson for the exceptional service they have given to God and to the church.   An Honorary Life Membership in Presbyterian Women, Presbyterian Church (U.S.A.), is conferred upon men and women in recognition of faithful service in some area of church work.
Bill McPherson
I was born in Oklahoma City, OK and the church has always been a part of my life.  My childhood memories are filled with visions of Sunday School, children's choir, and church camp – all deeply rooted in the Southern Baptist tradition.  It wasn't until my senior year in high school that I started dating the only girl in my physics class  - a Presbyterian.  Though the relationship went astray my affinity for the Presbyterian way didn't. 
 After graduating with a B.S. in Architectural Engineering at Oklahoma State University and Graduate Studies in Civil Engineering at the University of Texas (Austin), I completed my education with a M.B.A. from the University of Houston. I am currently employed full time with DTE Energy Services pursing industrial energy generation projects.
 I was first ordained an elder in the mid-80's and joined First Pres  in the early 90's after finding refuge on Sunday mornings for the thoughtfulness of the sermons, the warmth of the people, and willingness to accept those who were troubled.   I was soon pulled into the church's capital campaign by Dave and Linda Gunderson and not long after that, I was introduced to Judy Stuart.  Judy and I were both elected to Session shortly thereafter and found that we enjoyed each other's company.  We formed a Bible study group in 1999 that is still together today.
Over the years my background as an engineer has kept me close to the building and property issues, along with three full and one partial stint as a Ruling Elder, chair of Property Committee, Evangelism Committee, Congregational Life Committee, and currently chair of Mission Committee.  These committees have led me to assist in a Forward in Faith Campaign, Pastor Nominating Committee and Mission-Vision Next.
I've been known to play a little golf and facilitate a group of First Pres members and friends for a golf retreat to Georgia every year.
I am richly blessed by my two daughters from a previous marriage, three grandsons, and our First Pres family, and hope to be part of its future for many years.
Linda Robinson
Linda Robinson has been Office Manager at First Presbyterian Church since October of 2013.  She considers it to be both a pleasure and a privilege to be part of the dynamic work environment and ministry for this active, vibrant congregation.  She is honored and humbled to receive an Honorary Life Membership Award of Presbyterian Women (USA).  A Midwesterner at heart, Linda is actually a child of the south.  Her formative years were spent in Kentucky, Tennessee, North Carolina, and Texas before moving to Michigan for high school.  Linda holds a BA from Meredith College in Raleigh, North Carolina (Go Angels!) and an MA from the University of Georgia (Go Dawgs!).  In addition to prior office management work before coming to First Pres, Linda taught Spanish for 17 years at North Carolina State University and for four years at North Central Michigan Community College in Petoskey.  Linda was raised in the Southern Baptist Church, was married in the Missouri Lutheran Church in which her husband was raised, and spent some time with the Evangelical Lutherans before joining the PC (USA) in 1983.  She was ordained as an elder at St. Giles Presbyterian Church in Raleigh, North Carolina in 1988 and later served as an elder at St. Andrews Presbyterian Church, also in Raleigh, and at First Presbyterian Church in East Jordan, Michigan.  Her work as an elder was most often in the missions' arena and she served several years as Clerk of Session while at St. Andrews.  Presbyterian Women was a big focus of her life for many years.  Other highlights of church work were co-founding an ecumenical youth group and being a founding board member of an ecumenical resale shop whose profits support the local food pantry and meet other community needs in the small town of East Jordan.
Linda's husband Mark is a landscape architect working as a partner in an Ann Arbor design firm and teaching in the graduate program of the School for Environment and Sustainability at UM.  They have been married for 43 years and have two children, Ben and Sara.  Ben graduated from UM in 2006.  Ben and his husband Michael are opera singers.  Sara graduated from UM in 2014 and is currently a third year medical student at Central Michigan University's College of Medicine. 
2020 Honorary Life Membership Recipients
In 2020 Honorary Life Memberships were awarded to Joann Freethy, Joan Lee Delp Bentz, Eleonora Charlson and Katie Beery for the exceptional service they have given to God and to the church.  An Honorary Life Membership in Presbyterian Women, Presbyterian Church (U.S.A.), is conferred upon men and women in recognition of faithful service in some area of church work.
Joann Freethy
Joann has been a faithful Presbyterian woman for nine decades.  She resides at Glacier Hills Retirement Community, but you may see her getting on and off the Glacier Hills bus she takes to Sunday morning services.
Joann was born in 1927 and lived on a farm near Woodbine, Iowa.  After the death of her father, Joann, then four years old, moved with two sisters, a brother and her mother to Woodbine.  She took confirmation classes while in Junior High School.  In Woodbine on the same Palm Sunday, Joann was baptized and became a member of the Presbyterian Church.
After graduation from high school, Joann went to the University of Nebraska to study piano and organ and get a degree in music and teaching. She met John while there. Joann married John in 1947.  Early in their marriage four daughters were born.  During this time Joann taught piano lessons and accompanied soloists in the high school and college.  Later Joann taught elementary school for a short time.
The family moved from Nebraska to the Upper Peninsula, then to Washington, and then back to Michigan.  In Michigan they first moved to Coldwater, then to Adrian, and finally they settled in 1958 in Ann Arbor as Michigan was John's home state.  During each move Joann said that she always relied on the Presbyterian Church as "home".  They received friendship, love, and assistance as soon as they unpacked.  Quoting Joann, "There was always a place for me in the women's organization".  Wherever they lived, Joann joined the choir or played the organ, as well as accompanied soloists in the area. She also taught Sunday school for fifth and sixth graders and even high school students at one time.
During these years Joann was secretary three times for the Presbyterian Women (PW) and often chaired projects.  She has also served PW on the Mission and Scholarship Committees.  Joann said it was quite an education for her!  At First Presbyterian, Ann Arbor, Joann took meals to the sick on her own, and worked Wednesday evenings cooking and serving dinners for the homeless.  She also assisted with preparing lunches for Mature Ministries before retiring.
Joann's daughters (Kathryn, Mary Jo, Barbara & Margery) all live in Michigan.  With all of them here "I am very content and thankful to enjoy their wonderful families. I have endless gratitude for this church and all the goodness, generosity, and enthusiasm of its members.  Though inactive these days as a member of  PW, I give thanks for all the wonderful and giving work that is being done."
            "Thanks be to God."
Joan Lee Delp Bentz
I was born and raised in Reading, Pennsylvania, attended and was confirmed in a German Reformed church.  While attending Albright College in Reading and majoring in Biology and Chemistry, I met my future husband Rodney Bentz who was a pre-med major.  After graduation, I worked in the Reading Hospital Clinical laboratory for a year.
 Rodney and I married and moved to Philadelphia where he attended the University of Pennsylvania Medical School while I worked in a biochemistry lab at Smith, Kline and French Pharmaceutical Co.  There I worked on finding an inhibitor of cholesterol biosynthesis, the statins of today.
When we moved to Ann Arbor for Rodney's residency at the University of Michigan Hospital, I worked at the UM Hospital Allergy and Immunology laboratory.  There I did basic research on antibodies produced in ragweed allergies.  It was here that I meet Polly Pan who also worked in the lab. 
In 1966 Rodney was drafted into the army and we moved back to Pennsylvania where Rodney worked at Valley Forge Army Hospital as a pulmonary specialist.  I did some part-time work during that time, and we also had our son Kevin.
We returned to Ann Arbor in 1968 when Rodney was hired as an Assistant Professor of Internal Medicine at The University of Michigan.  I joined the UM Faculty Women's Club, daughter Karen was born, and learned to play duplicate bridge.  In 1978 I joined the Women's City Club, played bridge competitively, went to tournaments and became a Life Master.  I continue to play bridge and am now a Ruby Life Master.
I have volunteered most of my life:  PTA, school library, tour guide and gift shop worker at St. Joe Mercy Hospital, St. Joe's Medical Auxiliary, and I delivered Motor Meals for 15 years.
When Rodney and I joined First Presbyterian, Michael Lindvall was the pastor.  I helped Rodney with his Deacon work and attended many adult education classes.  I distributed greeting cards and stamps at the Delonis Center for 11 years, and was active in the Pilgrims of Ibillin (Israel/Palestine Mission Team) for 15 years.  I began volunteering in 2001, the same year Rodney and Judy Stuart started this mission after meeting Father Elias Chacour.  I have been active in Presbyterian Women, serving on the Hospitality Committee and have been responsible for Scholarships.
Rodney and I enjoyed several church based trips including:  Tour of Israel/Palestine and Jordan; Reformation Tour #1 which followed the life of Martin Luther; Reformation Tour #2 which began at the birthplace of John Calvin (France), and ended at the church of Dietrich Bonhoffer (Berlin, Germany).
Currently, I am enjoying my four grandchildren, PEO, the services at church, and the fellowship of Presbyterian Women and Mature Ministries.  I have met many wonderful people at church and I have been inspired by the pastors, especially Michael Lindvall and Waldemar Schmeichel.
Thank you for this award.
Eleonora Charlson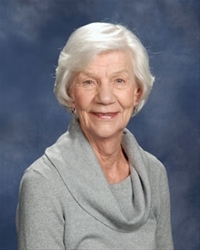 I was born and raised in Sweden and the church has always been a part of my life.  My family and I attended, and were members of, the Lutheran Church where I was baptized and confirmed and attended until I went away to college.  Growing up we were always involved in activities (Girl Scouts for me) and my father always ushered at church.
              I attended University of Stockholm and in my senior year of college, majoring in dietetics.  I met the owner of a Swedish restaurant while in Detroit called The Stockholm.  The owner was looking for someone who would be willing to spend two years overseeing the smorgasbord food preparation and translating the Swedish recipes into English.  I accepted the offer and spent between 1956 -1958 in Detroit working there.  I took evening classes at Wayne State University and volunteered at a Detroit hospital on my days off which gave me the additional experience to add to my resume.  I also traveled extensively in the USA and Canada.
            I returned to Sweden after two years and worked at the Karolinska Hospital, the largest hospital in Stockholm, where I had interned earlier.  I had met Karl in Detroit and he followed me to Stockholm where we were engaged and later married.  When we returned to the USA we settled in Grosse Ile on the Detroit River. We joined the Presbyterian Church on the island and raised four children there, three sons and one daughter.  I was very active in the church where I taught Kindergarten Sunday school, was Vice-president of P.W., and served on the Board of The Grosse Ile Musical, which had concerts monthly on the island.
            My husband Karl and I joined First Presbyterian Church, Ann Arbor, in 1987. We were impressed by the warmth of the members, the care of the church and community, and the music program.
Three of my four children (Karl, Eric, Ingrid) live in the area and the fourth (Kris) resides in Oregon. They have blessed me with four grandchildren.
With many relatives still in Sweden and particularly when my mother was alive I made many trips back "home".  In the past 62 years I've crossed the Atlantic 56 times both by boat and by air!
Since I have been a member of First Press, I have served two terms as a deacon, and have been on the Coordinating Team of P.W. serving as Hospitality Chair.  I'm also a member of the Philippine Task Force, Knit Night, and Helping Hands.
            I feel blessed to be part of such a vibrant church community and I hope to be active for years to come.
Katie Beery
The church has always been an important part of my life.  One of my earliest memories is walking down a LONG hallway to attend the Cradle Room class.  I was 4 or 5, and when I went back later to that church the LONG hall was quite short.  I still remember the teacher.  I attended Church School all through my growing up years.  One Church School teacher was important when I was in middle school as she seemed to take a special interest in her students.
I was the youngest of four children.  During World War II when I was in middle school, my two brothers fought in the war.  Both, fortunately, returned after the war was over.   My sister decided to become an airline hostess and flew in several planes across the United States.  My father, who was in World War I, went into the construction business and my mother was a homemaker. 
I went to the University of Mississippi (Ole Miss) for my first year of college, majoring in Accounting.  I was the only young lady in those classes.  My second year of college I transferred to the University of Memphis, and there I met Eldon.  As the saying goes, the rest is history.  Eldon and I first became good friends, and then fell in love.  I went some to summer school and received my BA degree in three years.  Eldon and I were married on September 1, 1950.  In 2020 we celebrated our 70th wedding anniversary.
When Eldon and I first married, he was working for the FBI at night and going to school during the day.  Eldon's father and grandfather were both ministers, and I think I had a feeling some day he would decide to enter the ministry.  When that day came, after the birth of our second child, I wasn't sure I wanted to be a minister's wife or not.  I remember he said he would give me a year, and if I didn't want him to do that he would not.  Tears still come to my eyes when I recall that day.  Of course I said yes, and we moved to McKenzie, Tennessee, where he changed his major and then attended Seminary.   I taught school that first year, and after Seminary he taught at the College and was in charge of the Boys' Dormitory where we had an apartment.  Our two young daughters loved the attention they received from the boys living there. 
Eldon and I have three children – Debra, Ellyn, and David. They are all psychologists and are Elders in their churches.  We have six grandchildren, and eight great grandchildren.
I participated in Presbyterian Women when Eldon was in college and then as a minister's wife.  I have enjoyed being a member of Presbyterian Women at Ann Arbor, First Presbyterian, especially being in charge of the bulletin board, and getting cookie bakers for the Memorial Services.  I have even been known to invite some of my friends to become members.
Thank you for the honor of becoming an Honorary Life Member.  It is a very special honor, and I appreciate it very much.
Additional Groups for Women
Knit Night
All knitters, experienced or inexperienced, are welcome to participate.  This group provides shawls for shut-ins and baby blankets for new babies at First Presbyterian and for Mott Hospital.  New knitters are welcome to come and learn from experienced members, working from simple patterns.  During this period, in person Knit Night has been canceled until further notice.  However our knitters are still hard at work continuing to knit from home.  Contact Prue Heikkinenn pheikkinen@att.net for more information.
Journeys Book/Bible Study
Journeys Study focuses on our core values of intellectual Christian exploration, personal growth through life's stages, and creating fellowship by providing Christian companionship to one another.   The study inspires practicing our Christian values by being involved with the larger community and participating in service projects.  A resident minister leads this study and its application to our lives.   September through May, the study meets via Zoom (https://us02web.zoom.us/j/295007173) on the second and fourth Thursdays of the month at 11:30 a.m.   Contact Rev. Frazier (afrazier@firstpresbyterian.org) for more information.