If you are a woman at First Pres, then YOU are a Presbyterian Woman!
Do you want to...
Expand your faith
participate in local and global mission
work for peace and social justice, and
support ministries at First Pres?
Then come to a Presbyterian Women meeting, join a Bible study, or contact Meg Brown (lmegbrown@gmail.com) to learn more!
PW Thank Offering
Every year, Presbyterian Women express their gratitude for the special blessings in their lives by donating to the Thank Offering. Contributions to the Thank Offering has allowed PW/ PCUSA to award grants of nearly $27 million to more than 1,600 different projects at home and around the world. Learn about all of this year's eighteen grant recipients on the PW bulletin board by the Welcome Center.
Make your donation of gratitude through First Pres by clicking this link: https://firstpresbyterian.wufoo.com/forms/donate-to-presbyterian-women/ under other/specify "PW-Thank Offering", or send checks made out to PW with Thank Offering in the memo to Bonnie Hughes, 3520 Paisley Ct., Ann Arbor, MI 48105.
All women of the church are considered members of Presbyterian Women (PW) and are cordially invited to participate in any or all of our activities.  Everyone is welcome to attend any portion of the programs.
The Horizons Bible Study 
Many thanks to our 2021-2022 PW morning Bible study leaders:  Sue Dempsey, Jill Binkley, Nancy Fox, Beth Sanderford, Barb DeLancey, Stacey Pakela, Alice Holderby, Georgia Goodman, Peggy Hodgson, and Kathy Wirstrom.  Special thanks to Jenna Mares for Hosting our "Evenings with Jenna" series.
As each of us moves forward today, we are reminded of our similarities to the biblical women we studied - Tamar, Rahab, Ruth, Bathsheba, and Mary, those daring and courageous souls of Jesus' ancestry.  Like them, our legacies will build the women of tomorrow! 
Classes start again in September with Kyle Hall, facilitator, at the helm!  See you then!
Schedule in the Fall:
10:30 - 11:30 a.m. Bible Study - Contact Meg Brown at lmegbrown@gmail.com to order a Horizons Bible Study ($10). 
11:30 - 11:50 a.m. PW Business Meeting
11:50 - Noon - Break
Noon - PW will join Mature Ministries' "Lunch & Learn" program in the Social Hall 
Join "Evenings with Jenna". This friendly group is led by Jenna Mares the second Thursday of the month at 7 p.m. and currently meets virtually.  This group is open to all women, men, new members, visitors, and anyone else interested in connecting with others at First Pres and expanding their faith.  If you are looking for a place to be… this is it! The group is currently studying What My Grandmothers Taught Me - Learning from the Women in Matthew's Genealogy of Jesus.
For more information, contact Jenna at 712-299-1971 or jenna.arms66@gmail.com.  You are welcome!  Zoom Link:  https://us02web.zoom.us/j/84155918470
Additional Groups for Women
PW William Barclay Study
This study will resume in the Fall.  Contact Meg at lmegbrown@gmail.com for more information!
Knit Night
All knitters, experienced or inexperienced, are welcome to participate.  This group provides shawls for shut-ins and baby blankets for new babies at First Presbyterian and for Mott Hospital.  New knitters are welcome to come and learn from experienced members, working from simple patterns.  Contact Prue Heikkinenn pheikkinen@att.net for more information.
PW Religious Education Scholarships for 2022-2023
Presbyterian Women (PW) is now accepting scholarship requests for the 2022-2023 school year.  Men and women beginning or in seminary, or are in religious education, are encouraged to apply by the end of April, 2022.  Contact Jill Binkley (jillbink2@gmail.com) for more information. 
The application can be downloaded HERE.
This scholarship has a rich history as it honors dedicated women and men who are/were active members of First Presbyterian Church of Ann Arbor, vital participants in the work of PW, and have given financial gifts to support this scholarship for students studying for the ministry.  The original scholarship endowment was established in 1984 in honor of Doris S. Barnett.  In 1990, the Kooyers family added memorial monies to this endowment to honor Joanne Kooyers, and designated those funds to aid women scholars.  One more outstanding contributor to the ministry of our church and PW was Mable Rugen, who was honored in 1999 when additional funds were added in her name.
PW continues to place a great deal of importance on scholarships and has been annually selling scholarship "shares" at church mission bazaars to maintain the ability to award scholarships.  If you know of someone who may benefit from this scholarship, please encourage them to apply.  The application can be downloaded here.
Sewing Angels
Sewing Angels and Fabric Needed!
Presbyterian Women is supporting a new Sewing Angels project suggested by senior sewing angel Gail Grady to make reusable/reversible shopping bags for Hope Clinic's food bank customers.  PW contributed $125 for fabric and Gail is putting together sewing kits.  Donations of fabric are also appreciated!
Interested in participating? Want to give fabric?
Contact Gail at gailgradycm@yahoo.com or 734-417-6582 to learn more.
The Butterfly Effect
Click here to read Meg Brown's letter to all Presbyterian Women here at First Pres with the latest information on how you can make a difference.
Presbyterian Women celebrate 175 years of service to First Pres!
 A special event was held on October 17, 2021.  PW presented a beautiful hand woven cloth for the communion table in Monteith Hall, in honor of their 175 years of service to the church. 
Below are some pictures from this event!  Many thanks to everyone involved in setting this event up, and for those who participated!
Presbyterian Women:  Staying Connected
PW sends out an email blast once a month from September – May sharing activities of interest to women.  
Be a Part of PW - Presbyterian Women are always interested in hearing from women who would like to help in the organization.  Contact Meg Brown, Moderator lmegbrown@gmail.com
Presbyterian Women and Missions
Ingathering, as it is known, is organized by the Presbyterian Women - Presbytery of Detroit. Every local PW is sent a list of items to gather for the over 34 agencies which we serve. Due to the COVID challenges this year's Ingathering assignments and new program details are on hold until PW of Presbytery of Detroit can best determine how to help the agencies we support. Any questions, please email Joyce at joycehimebaugh@gmail.com
Presbyterian Women, Slate of Officers 2021–2022 Coordinating Team
Officers
Moderator, Meg Brown, lmegbrown@gmail.com
Secretary, Lynne Gulick, l.gulick@gmail.com
Treasurer, Bonnie Hughes, bonniek@umich.edu
Vice Moderators
Mission Co-Chairs, Joyce Himebaugh, joycehimebaugh@gmail.com and Shelly Winters, swinters3d@gmail.com
Justice and Peace Co-Chairs, Joan Bentz, jdbentz@comcast.net and Marlee Brown, marlee@marleebrown.com
Studies Co-Chairs, Peggy Hodgson, peggyhodgson@comcast.net and Jill Binkley, jillbink2@gmail.com
Coordinators
Hospitality, Linda Atkins, atkins.linda@att.net
Publicity, Diane Johnston, alicejohnston09@comcast.net, Michele Derr, michelederr9@gmail.com, and Mary Jones, marycjones@comcast.net
Membership/Nominating, Ginny Bell, virginiabell2013@gmail.com, Pat Price, patalprice@comcast.net
Special Assignments
Memorial Reception Co-Chairs, Felicity Williams, fwwilliams176@gmail.com, and Marolin Bellefleur, marolinbellefleur@gmail.com
Memorial Reception Volunteer Recruitment, Nelly Petrock, nkeizer43@aol.com
Memorial Reception Volunteer Cookie Bakers, Michele Derr, michelederr9@gmail.com
Session Liaison, Renee Mulcrone, rsherman@umich.edu
Co-Mission Partner & Special Projects, Carole Hendrickson, hmcst42@gmail.com
2021 Honorary Life Membership Recipients
In 2021 Honorary Life Memberships were awarded to Ginny Bell and Brad Taylor for the exceptional service they have given to God and to the church.  An Honorary Life Membership in Presbyterian Women, Presbyterian Church (U.S.A.), is conferred upon men and women in recognition of faithful service in some area of church work.
Virginia Bell
It is truly an honor to receive the Honorary Lifetime Membership award as so many of my role models at First Pres. are past recipients: Martha Krehbiel, Marion West, and Katie Beery just to name a few.
The Presbyterian Church has been my home since my baptism as an infant.  Since that time I have been an active member in Presbyterian churches in Michigan, Illinois, Georgia, and Arizona.
The Presbyterian church women's organization has been woven in and out of my life since my days in elementary and middle school.  During this early period the Women's Organization of North Presbyterian Church Lansing, Michigan gave $25.00 Camp-o-ships to those attending summer camp. I received these for several years.  Later in the 1970's I saw how the Women's Organization enveloped my mother after my father passed away. Moving forward to around 2003 I attended a PW program here at First Pres. lead by Maryls Schutjer on Restorative Justice.  This topic became my focus and dissertation topic for my Doctorate in Educational Leadership from Eastern Michigan University in 2005 and was a successful tool I used as a high school class principal.   Upon my retirement as a principal in the Ann Arbor Public Schools, I began attending the PW Bible Study and it was Martha Krehbiel who asked me to become Moderator.  And you know how hard it was to say "No" to Martha.  Now, six years later I just finished my term.
I have been honored to be able to serve the church as an Elder in both the Southern and Northern "branches" of the Presbyterian Church before they re-united in 1983. An unforgettable experience for me was to help serve communion at that reunion service in Atlanta, Georgia.  Since the reunion and creation of the Presbyterian Church (USA) I have served as a Deacon, Deacon Moderator, Sunday School teacher, Elder, and Moderator of Presbyterian Women.  I have also served as Chair of the Mission Committee and have participated in mission trips to Russia and Nicaragua.  I have had several unforgettable pilgrimages through the Presbyterian Church to Israel and Jordan, Iona, Scotland and Santiago, Spain.
I met my husband Brian at First Singles and we married in Monteith Hall. My daughter, Lynn, is a librarian at University of Colorado.  My husband and I are retired and I enjoy travel, PW and mission work, needlework, reading, sports and being one-half of a pet therapy team with Oscar our dog.
Brad Taylor
Brad Taylor was raised in the Allen Park United Presbyterian Church in a Downriver suburb of Detroit.  He spent many years as a student at the University of Michigan where he earned four degrees, including a Ph.D., in Information and Library Studies.  Though recently retired, he spent 20 years working at the University of Michigan where he served as Associate Director of the Museum Studies Program.  He loved the variety of this work, the ability to teach about a topic he loved, the infinite variety of museums, and the ability to help students realize their dreams.  His contributions to the field were recognized in 2019 when he received the Presidents Award from the Michigan Museums Association, the highest professional honor within the field in the state.
A defining and critical part of Brad's development came through his role as a caregiver for aging family members over the course of 20 years.  As the three charges he cared for with his wife progressed in life, the work became more demanding, physically and emotionally.  He wasn't affiliated with a church at this point in his life yet was buoyed by the experience of caring for others in their time of need.  This path would eventually lead him to the First Presbyterian Church of Ann Arbor, whose pastoral staff and deacons provided critical support to his mother, Ernestine, in the last months of her life.  This loving support was so positive that at the end of Ernie's life, Brad decided to become a First Pres member in 2013.
At First Pres, Brad has made his presence best known as the "trip planner" for the Mature Ministries group.  In his years with the church, Brad has organized and led 30 outings for the seniors—mostly one day trips to regional museums and historic properties—and planned lunches that help bring between 40-60 people together for fellowship and a meal.  These adventures allow a sometimes-isolated population to come together to learn, see the world, form and maintain friendships, and explore various dimensions of faith.  Brad also plays an active role in securing speakers for the Mature Ministries Lunch &. Learn series that centers fellowship and learning in the church Social Hall ten times a year.  On several occasions, the Taylor home has been opened for Sunday afternoon brunches and a chance to meet members of the Ann Arbor Symphony Orchestra.  Brad believes that through his steadfast commitment to First Pres seniors, someone else's parent is being loved and cared for as his mother was by members of First Pres in her moment of greatest need.  
In addition to this work with Mature Ministries, Brad is in his second term as a Deacon, currently serves on the Music and Arts Committee, the Annual Giving Committee, and has concluded service as a member of the Self Study Group and several other committees.  
Brad and his wife, Simone Himbeault Taylor, live in Ann Arbor.
2020 Honorary Life Membership Recipients
In 2020 Honorary Life Memberships were awarded to Joann Freethy, Joan Lee Delp Bentz, Eleonora Charlson and Katie Beery for the exceptional service they have given to God and to the church.  An Honorary Life Membership in Presbyterian Women, Presbyterian Church (U.S.A.), is conferred upon men and women in recognition of faithful service in some area of church work.
Joann Freethy
Joann has been a faithful Presbyterian woman for nine decades.  She resides at Glacier Hills Retirement Community, but you may see her getting on and off the Glacier Hills bus she takes to Sunday morning services.
Joann was born in 1927 and lived on a farm near Woodbine, Iowa.  After the death of her father, Joann, then four years old, moved with two sisters, a brother and her mother to Woodbine.  She took confirmation classes while in Junior High School.  In Woodbine on the same Palm Sunday, Joann was baptized and became a member of the Presbyterian Church.
After graduation from high school, Joann went to the University of Nebraska to study piano and organ and get a degree in music and teaching. She met John while there. Joann married John in 1947.  Early in their marriage four daughters were born.  During this time Joann taught piano lessons and accompanied soloists in the high school and college.  Later Joann taught elementary school for a short time.
The family moved from Nebraska to the Upper Peninsula, then to Washington, and then back to Michigan.  In Michigan they first moved to Coldwater, then to Adrian, and finally they settled in 1958 in Ann Arbor as Michigan was John's home state.  During each move Joann said that she always relied on the Presbyterian Church as "home".  They received friendship, love, and assistance as soon as they unpacked.  Quoting Joann, "There was always a place for me in the women's organization".  Wherever they lived, Joann joined the choir or played the organ, as well as accompanied soloists in the area. She also taught Sunday school for fifth and sixth graders and even high school students at one time.
During these years Joann was secretary three times for the Presbyterian Women (PW) and often chaired projects.  She has also served PW on the Mission and Scholarship Committees.  Joann said it was quite an education for her!  At First Presbyterian, Ann Arbor, Joann took meals to the sick on her own, and worked Wednesday evenings cooking and serving dinners for the homeless.  She also assisted with preparing lunches for Mature Ministries before retiring.
Joann's daughters (Kathryn, Mary Jo, Barbara & Margery) all live in Michigan.  With all of them here "I am very content and thankful to enjoy their wonderful families. I have endless gratitude for this church and all the goodness, generosity, and enthusiasm of its members.  Though inactive these days as a member of  PW, I give thanks for all the wonderful and giving work that is being done."
            "Thanks be to God."
Joan Lee Delp Bentz
I was born and raised in Reading, Pennsylvania, attended and was confirmed in a German Reformed church.  While attending Albright College in Reading and majoring in Biology and Chemistry, I met my future husband Rodney Bentz who was a pre-med major.  After graduation, I worked in the Reading Hospital Clinical laboratory for a year.
 Rodney and I married and moved to Philadelphia where he attended the University of Pennsylvania Medical School while I worked in a biochemistry lab at Smith, Kline and French Pharmaceutical Co.  There I worked on finding an inhibitor of cholesterol biosynthesis, the statins of today.
When we moved to Ann Arbor for Rodney's residency at the University of Michigan Hospital, I worked at the UM Hospital Allergy and Immunology laboratory.  There I did basic research on antibodies produced in ragweed allergies.  It was here that I meet Polly Pan who also worked in the lab. 
In 1966 Rodney was drafted into the army and we moved back to Pennsylvania where Rodney worked at Valley Forge Army Hospital as a pulmonary specialist.  I did some part-time work during that time, and we also had our son Kevin.
We returned to Ann Arbor in 1968 when Rodney was hired as an Assistant Professor of Internal Medicine at The University of Michigan.  I joined the UM Faculty Women's Club, daughter Karen was born, and learned to play duplicate bridge.  In 1978 I joined the Women's City Club, played bridge competitively, went to tournaments and became a Life Master.  I continue to play bridge and am now a Ruby Life Master.
I have volunteered most of my life:  PTA, school library, tour guide and gift shop worker at St. Joe Mercy Hospital, St. Joe's Medical Auxiliary, and I delivered Motor Meals for 15 years.
When Rodney and I joined First Presbyterian, Michael Lindvall was the pastor.  I helped Rodney with his Deacon work and attended many adult education classes.  I distributed greeting cards and stamps at the Delonis Center for 11 years, and was active in the Pilgrims of Ibillin (Israel/Palestine Mission Team) for 15 years.  I began volunteering in 2001, the same year Rodney and Judy Stuart started this mission after meeting Father Elias Chacour.  I have been active in Presbyterian Women, serving on the Hospitality Committee and have been responsible for Scholarships.
Rodney and I enjoyed several church based trips including:  Tour of Israel/Palestine and Jordan; Reformation Tour #1 which followed the life of Martin Luther; Reformation Tour #2 which began at the birthplace of John Calvin (France), and ended at the church of Dietrich Bonhoffer (Berlin, Germany).
Currently, I am enjoying my four grandchildren, PEO, the services at church, and the fellowship of Presbyterian Women and Mature Ministries.  I have met many wonderful people at church and I have been inspired by the pastors, especially Michael Lindvall and Waldemar Schmeichel.
Thank you for this award.
Eleonora Charlson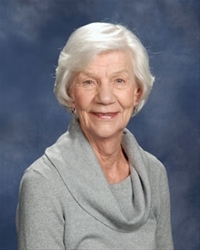 I was born and raised in Sweden and the church has always been a part of my life.  My family and I attended, and were members of, the Lutheran Church where I was baptized and confirmed and attended until I went away to college.  Growing up we were always involved in activities (Girl Scouts for me) and my father always ushered at church.
I attended University of Stockholm and in my senior year of college, majoring in dietetics.  I met the owner of a Swedish restaurant while in Detroit called The Stockholm.  The owner was looking for someone who would be willing to spend two years overseeing the smorgasbord food preparation and translating the Swedish recipes into English.  I accepted the offer and spent between 1956 -1958 in Detroit working there.  I took evening classes at Wayne State University and volunteered at a Detroit hospital on my days off which gave me the additional experience to add to my resume.  I also traveled extensively in the USA and Canada.
I returned to Sweden after two years and worked at the Karolinska Hospital, the largest hospital in Stockholm, where I had interned earlier.  I had met Karl in Detroit and he followed me to Stockholm where we were engaged and later married.  When we returned to the USA we settled in Grosse Ile on the Detroit River. We joined the Presbyterian Church on the island and raised four children there, three sons and one daughter.  I was very active in the church where I taught Kindergarten Sunday school, was Vice-president of P.W., and served on the Board of The Grosse Ile Musical, which had concerts monthly on the island.
My husband Karl and I joined First Presbyterian Church, Ann Arbor, in 1987. We were impressed by the warmth of the members, the care of the church and community, and the music program.
Three of my four children (Karl, Eric, Ingrid) live in the area and the fourth (Kris) resides in Oregon. They have blessed me with four grandchildren.
With many relatives still in Sweden and particularly when my mother was alive I made many trips back "home".  In the past 62 years I've crossed the Atlantic 56 times both by boat and by air!
Since I have been a member of First Press, I have served two terms as a deacon, and have been on the Coordinating Team of P.W. serving as Hospitality Chair.  I'm also a member of the Philippine Task Force, Knit Night, and Helping Hands.
I feel blessed to be part of such a vibrant church community and I hope to be active for years to come.
Katie Beery
The church has always been an important part of my life.  One of my earliest memories is walking down a LONG hallway to attend the Cradle Room class.  I was 4 or 5, and when I went back later to that church the LONG hall was quite short.  I still remember the teacher.  I attended Church School all through my growing up years.  One Church School teacher was important when I was in middle school as she seemed to take a special interest in her students.
I was the youngest of four children.  During World War II when I was in middle school, my two brothers fought in the war.  Both, fortunately, returned after the war was over.   My sister decided to become an airline hostess and flew in several planes across the United States.  My father, who was in World War I, went into the construction business and my mother was a homemaker. 
I went to the University of Mississippi (Ole Miss) for my first year of college, majoring in Accounting.  I was the only young lady in those classes.  My second year of college I transferred to the University of Memphis, and there I met Eldon.  As the saying goes, the rest is history.  Eldon and I first became good friends, and then fell in love.  I went some to summer school and received my BA degree in three years.  Eldon and I were married on September 1, 1950.  In 2020 we celebrated our 70th wedding anniversary.
When Eldon and I first married, he was working for the FBI at night and going to school during the day.  Eldon's father and grandfather were both ministers, and I think I had a feeling some day he would decide to enter the ministry.  When that day came, after the birth of our second child, I wasn't sure I wanted to be a minister's wife or not.  I remember he said he would give me a year, and if I didn't want him to do that he would not.  Tears still come to my eyes when I recall that day.  Of course I said yes, and we moved to McKenzie, Tennessee, where he changed his major and then attended Seminary.   I taught school that first year, and after Seminary he taught at the College and was in charge of the Boys' Dormitory where we had an apartment.  Our two young daughters loved the attention they received from the boys living there. 
Eldon and I have three children – Debra, Ellyn, and David. They are all psychologists and are Elders in their churches.  We have six grandchildren, and eight great grandchildren.
I participated in Presbyterian Women when Eldon was in college and then as a minister's wife.  I have enjoyed being a member of Presbyterian Women at Ann Arbor, First Presbyterian, especially being in charge of the bulletin board, and getting cookie bakers for the Memorial Services.  I have even been known to invite some of my friends to become members.
Thank you for the honor of becoming an Honorary Life Member.  It is a very special honor, and I appreciate it very much.